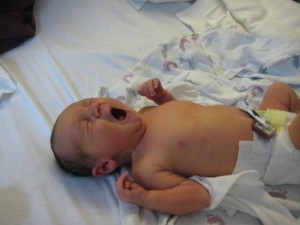 When I last checked in with this lonely blog I was OMG-pregnant, and I've left everyone in suspense.  But as expected, in late August my pregnancy resulted in a tiny person with whom I share an emotionally potent chemical co-dependency.
More simply, I HAZ A CUTE BAYBEE!
Please welcome our tiny new friend–codename Chestnut–our toothless, elfen, smiley learning machine.  This picture is from his first full day on the outside, when he still had an anti-theft device attached to his cord stump.  It's true, they make them for babies.  Apparently, the idea is that if you try to abscond from a hospital with a kiddo, it beeps like a shoplifted dress from Ross.  But if you try to remove it or tamper with it, it's a felony because messing with the cord stump can potentially endanger the kid's health.
So what's it like on the other side … Read the rest